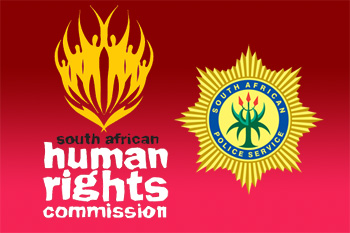 Date: Monday, 30 September 2019
Time: 14h00 - 16h00 (arrival and registration from 13h00)
Venue: Conference Room 2, Future Africa, University of Pretoria
RSVP: 26 September to Sibongiseni Tula (This email address is being protected from spambots. You need JavaScript enabled to view it.), copying Thandiwe Matthews (This email address is being protected from spambots. You need JavaScript enabled to view it.) and Kwanele Pakati (This email address is being protected from spambots. You need JavaScript enabled to view it.)

Download this invitation
The South African Human Rights Commission and the South African Police Service, in collaboration with the Centre for Human Rights at the University of Pretoria, cordially invite you to the first annual Human Rights and Policing Lecture entitled "Our Heritage: Dignity in Democracy".
The inaugural lecture will be delivered by Professor Christof Heyns, and will focus on the right of peaceful assembly in democracy. Prof. Heyns is an internationally renowned human rights expert and a member of the United Nations Human Rights Committee and Professor of Human Rights Law at the University of Pretoria.
RSVP by no later than Thursday, 26 September to Sibongiseni Tula (This email address is being protected from spambots. You need JavaScript enabled to view it.), copying Thandiwe Matthews (This email address is being protected from spambots. You need JavaScript enabled to view it.) and Kwanele Pakati (This email address is being protected from spambots. You need JavaScript enabled to view it.).
A light lunch will be served.