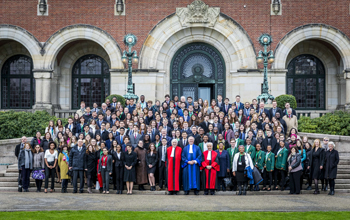 The International Moot Court (IMC) is a two-yearly international competition organised by The Hague City Council in collaboration with the City of New York. The competition is intended for high school learners and is aimed at encouraging an engagement with international (criminal) law. The competition is open to learners from all countries and is hosted in The Hague, Netherlands.
South Africa has actively participated in the IMC for a number of years, having won the competition in 2016. Every second year the finalists of the South African National Schools Moot Court Competition are invited to represent the country in the IMC and spend a week training with experienced mooters from the University of Pretoria Moot society.
This year South African was represented by learners from the Eastern Cape, Limpopo, and KwaZulu-Natal. The 2018 fact complex involved the prosecution of a former child soldier and the destruction of religiously significant sites. The week before the competition, the learners were hosted by the Department of Basic Education where they were trained by former mooters from the University of Pretoria. The learners engaged with a number of international law instruments and jurisprudence of the International Criminal Court.
The preliminary rounds of the competition were held at the University of Leiden, The Hague Campus, where the learners argued eight times, appearing for both the prosecution and the defence. While the team did not progress to the final round, they argued both sides eloquently and with a sound understanding of the relevant area of international law. The competition exposed the students to international human rights and fostered an interest in South Africa's engagement with international law.
While winning is usually the aim of any competition, moot court competitions such as the IMC are valuable because they teach learners how to formulate and present their opinions in a clear and logical structure, and require a sophisticated engagement with human rights.
The members of the team were: Sibulele Mbambi, Athenkosi Mthiya, Kian Terwin, Qhayiya Mayinje; Vuyolwethu Ngobese, Philasande Mdletshe, Adivhaho Mudanalwo; Mashudu Mandaha.
The team received support from a number of individuals and institutions, in particular the Department of Basic Education, the Foundation of Human Rights, and the University of Pretoria.
More information about the competition can be found at: https://internationalmootcourt.nl/en/imc.