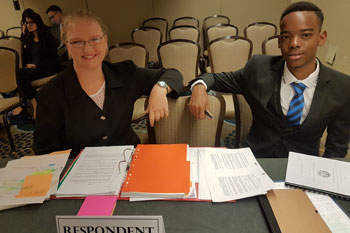 TuksLaw best ever at largest Jessup ever
Following their performance at the national rounds in March, the TuksLaw Moot Society's Jessup team, consisting of oralists Ashley Makgatho (LLB II) and Mary-Ann Gettliffe (LLM), coach Gift Kgomosotho (LLM and Researcher at ICLA) and assistant coach Tino Kakora (LLB IV), was invited to represent South Africa at the International Rounds of the 58th Jessup International Law Moot Court Competition in Washington DC from 9 to 16 April 2017.
After competing against 143 teams representing 95 countries in the International Rounds, the UP Jessup team finished in the top 16 Octo-Finals. The team competed in four preliminary oral rounds (determining the top 32 teams in the world) against Luxembourg, Canada, Lithuania and USA. The TuksLaw team won all four preliminary rounds and qualified for the Top 32 Advanced Knock-out Rounds, where they were knocked out by The Philippines, qualifying for the Top 16 octo-finals. Here, the team lost their first match in the entire tournament against Jamaica (Jamaica went on to argue in the Final Round of the competition). 2017 is the largest Jessup year to date, with over 600 law faculties from over 95 countries competing. Out of all 600 faculties the TuksLaw team ranked higher than Cambridge, Oxford, King's College, Columbia, Harvard, and Yale, to mention a few. Further, South African is the highest ranked team in Africa. This is an outstanding achievement by the TuksLaw team, as it has been 15 years since a team from South Africa has ranked this high in the Jessup Competition and 18 years for a team (the then team consisted of Lawrence Mashava and Lulu Matakala) from the University of Pretoria.
This year's case is based on international environmental law, state responsibility, international cultural property/heritage law and international human rights law.