Thompson Chengeta is a non-residential fellow at ICLA, with a strong focus on autonomous weapons. He did his doctorate under the supervision of Prof Christof Heyns, UN Special Rapporteur on extrajudicial, summary or arbitrary executions (2010 - 2016), who placed the issue of autonomous weapons on the United Nations agenda with his 2013 report to the Human Rights Council on what was then called 'Lethal autonomous robotics' which can be accessed here.
For his subsequent writings on the topic, see Prof Heyns's profile under staff members, accessible here.
Thompson Chengeta completed his doctorate on autonomous weapons under the supervision of prof Heyns in 2015.
In recent years Dr Chengeta has been active as a member of the International Committee for Robots Arms Control, and has participated actively in the debates.
Videos
News
A Critique of the Canberra Guiding Principles on Lethal Autonomous Weapon Systems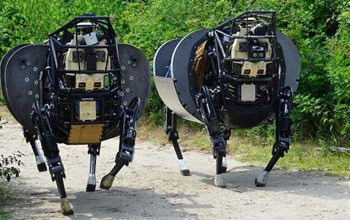 This article is part of a series.
The challenges that are raised by lethal autonomous weapon systems [LAWS] – also known as killer robots – remain pertinent today, even amidst the deadly corona virus pandemic that has taken the world by a storm. Realising that even in times of crisis, it is critical for nations to continue addressing this urgent issue, from 1-2 April 2020, the German Government hosted a Berlin virtual forum on the regulation of LAWS within which 450 people participated from 63 countries. During the forum, the German Government – through its Foreign Minister – reiterated that "letting machines decide over life and death of human beings runs against all of our ethical standards".
Fear the Reaper: wie geeft richting aan het drone-debat?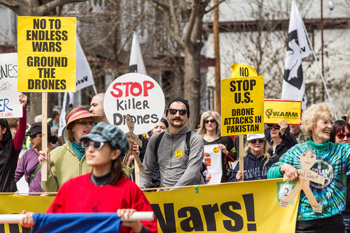 Original post: Clingendael Spectator
12 April 2019
Door de toenemende inzet van drones door de Verenigde Staten voor zogenaamde targeted killings[1]en de drastische toename van de wereldwijde productie, export en inzet van militaire drones zijn de onbemande vliegtuigen weer actueel. Een tiental landen beschikt nu over bewapende drones en de VS ziet haar koploperpositie verdwijnen met de opkomst van producenten in China, Turkije en Zuid-Afrika. Nederland ging in 2017 over tot aanschaf van vier onbewapende MQ-9 Reapers die als onbemenste[2], op afstand bestuurbare vliegtuigen met sterke camera's en sensoren moeten bijdragen aan de ogen en oren van de Luchtmacht. Tijd voor een korte terugblik op het debat over drones, een analyse van de huidige praktijken en een blik vooruit op wat toenemende aanschaf en inzet van drones betekent voor de toekomst van oorlogsvoering, maar ook voor het Nederlands en Europees buitenlands beleid.
---
[last updated: 7 May 2020]