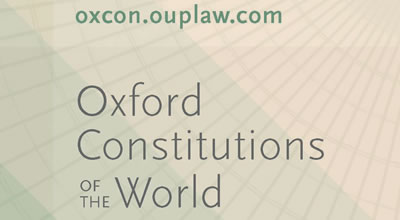 The Oxford Constitutions of the World consists of country reports on the constitutions of all countries of the world presented under 6 geographic regions ( Africa, Americas, Antarctic region, Asia, Europa and Oceania) (See http://oxcon.ouplaw.com/ ) They were previously published by Oceana, but have since been taken over by Oxford University Press (OUP). The general editors are Prof. Rüdiger Wolfrum, former Director of the Max Planck Institute for Comparative Public Law and International Law (MPI), Heidelberg, Germany; Prof. Dr. Rainer Grote, LL.M., Senior Research Fellow at the MPI.
The Institute for International and Comparative Law in Africa (ICLA) in the Faculty of Law of the University of Pretoria in 2011 agreed with OUP and the MPI to coordinate the African country reporting for the Oxford Constitutions Online. The reports for the African region are edited by Prof. Dr. Rainer Grote of MPI and Prof. Charles Fombad of ICLA.
These reports are normally accessible only to subscribers. However, under a special agreement reached between ICLA and OUP, the later agreed to a pre-publication of the African reports produced under the auspices of ICLA in order to ensure a better accessibility of these reports in Africa. They are therefore available to researchers and can be consulted free of charge at the ICLA website: http://www.icla.up.ac.za/research/oxford-constitutions
So far, the introductory reports on the constitutions as well as updated versions of the constitutions of the following countries have been published: Algeria, Benin, Botswana, Burkina Faso, Burundi, Cameroon, DR Congo, Djibouti, Eritrea, Ethiopia, Namibia, Ghana, Guinea Bissau, Kenya, Lesotho, Malawi, Mauritius, Namibia, Nigeria, Rwanda, Sao Tomé and Principé, Seychelles, Somaliland, South Africa, South Sudan, Swaziland, Togo, Tunisia, Uganda and Zimbabwe. The reports for Central African Republic and Sierra Leone, will soon be published. We are in the process of finalising the reports for Tanzania, Morocco, Sudan, Zambia, Senegal, Mali, Western Sahara and Egypt.