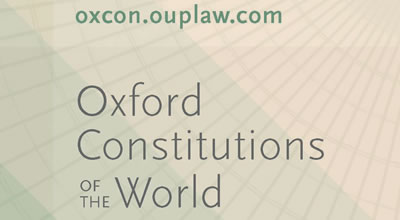 Oxford Constitutions of the World

ICLA oversees the African country reporting of the Oxford Constitutionsof the World (published in print and online, see http://oxcon.ouplaw.com/).

The project currently provides access to 188 country constitutions with extensive expert commentary in English from leading scholars worldwide, including regular updates. It is published by Oxford University Press under the general editorship of Prof Rüdiger Wolfrum, Director of the Max Planck Institute for Comparative Public Law and International Law (MPI), Heidelberg, Germany, Prof Rainer Grote, Senior Research Fellow at the MPI and Prof Erika de Wet, Co-Director of the ICLA.
The African country reports (also known as introductory notes) prepared under the auspices of the ICLA and the respective country constitutions are also accessible through the ICLA website.