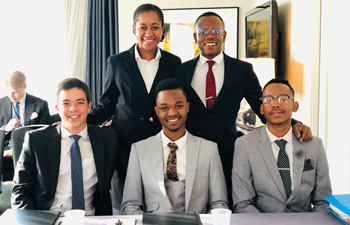 15 May 2019
In April 2019, the University of Pretoria's Jessup Team represented South Africa at the International Rounds of the Phillip C Jessup Moot Court Competition in Washington DC. The team had won the South African National Rounds held in Johannesburg in February, where they were declared the 'Overall Winner' and thereby earned the right to represent South Africa at the International Rounds. More than 700 Law Faculties competed in the 2019 Jessup Competition across the globe
In Washington D.C., the TuksLaw team came up against prominent universities from Russia, the United States and Estonia. The team finished in 55th place, ahead of preeminent universities such as the Cornell University, Oxford University, University of Toronto..
Last year, the University of Pretoria were also the South African champions and finished 5th out of more than 600 law faculties worldwide. The 2018 UP team also won the Elona E Evans award as well as the coveted Richard R Baxter award for their written submissions.
The 2019 TuksLaw team, coached by Gift Keketso Kgomosotho, was awarded an Alona E. Evans award for ranking 15th in the written submission component. This year's team consisted of Franciscus Crouse (LLB II), Ashley Makgatho (LLB IV), Simon Motshweni (LLB III) and Matikomborera Nyamadzi (LLB III) – with Matikomborera finishing in the Competition's Top 100 Oralists – a feat reserved only for the best law students in the world.
Jessup is the world's largest moot court competition, with participants from law schools in more than 95 countries. The Competition is a simulation of a fictional dispute between countries before the International Court of Justice, the judicial organ of the United Nations.
This year's case deals with State Responsibility, Environmental and Wildlife Law, Human rights and Traditional Knowledge.
The Team would like to thank everyone who participated in the preparation of the team, including Professor Christof Heyns; Professsor André Boraine, the Dean of Law; Professor Dire Tladi, Dr S Maslen, Dr M Bradley, Dr Y Meyer, Ms M Gettliffe, the Tuks Moot Society and many others. The team's participation in Washington DC would not have been possible without the generous financial contributions from the Law Society of the Northern Provinces; MacRobert Attorney's; Mr Webster (chairperson of Spoor and Fisher, who donated in his personal capacity); the Pretoria Society for Advocates; Professor Fombad from the Institute of International and Comparative Law in Africa and Professor Grove from the Mercantile Law Department at the Faculty of Law.