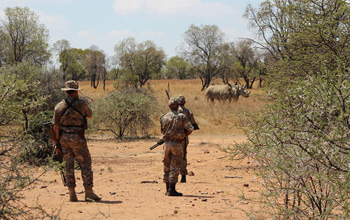 The protection of some of Africa's most precious natural resources—its population of rare and endangered species—from exploitation at the hands of poachers, is a critical priority of law enforcement in many African countries.
The salience of the law enforcement objective, the heightened political alarm-calls (at both national and international level), coupled with the often-challenging environment in which counter-poaching operations take place, creates a perfect storm of complexity for enforcement officials, especially with respect to their use of force.
Is it legitimate to use lethal force to protect the life of an endangered species, even in the absence of a direct threat to human life (i.e. not in immediate self-defence)?
What level of "precaution" is required in the planning of counter-poaching operations to avoid recourse to the use of lethal force?
What proportion of "poachers" killed during counter-poaching operations are in fact engaged in a direct threat to an endangered animal?
In the context of transnational nature reserves, how do counter-poaching and border-enforcement operations overlap, what are the implications for the use of force by armed forces outside of armed conflict?
What rules govern the use of force to protect endangered species in situations of armed conflict?
In collaboration with experts from the Department of Animal and Wildlife Sciences at the University of Pretoria, and the Centre for International and Operational Law at the Swedish Defence University, the Institute for International and Comparative Law in Africa is seeking a doctoral student to undertake theoretical and observational research in this fascinating subject area.
The successful applicant(s) will join a growing group of doctoral students forming part of ICLA's "Freedom from Violence" initiative. Potential applicants are invited to approach Dr ThomasProbert (This email address is being protected from spambots. You need JavaScript enabled to view it.) for further information or to apply, enclosing a CV and a statement of motivation or research proposal.