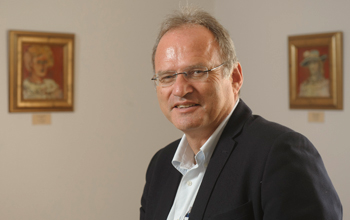 Professor Christof Heyns receives prestigious award from The Advocates for Human Rights
9 June 2016
The Faculty of Law of the University of Pretoria congratulates Prof Christof Heyns on receiving the prestigious Don and Arvonne Fraser Human Rights Award from The Advocates for Human Rights (AHR) on the evening of 1 June 2016 in Minneapolis. The organisation 'Advocates for Human Rights' works locally and globally to fight injustice, restore peace, save lives and build the human rights movement.
Prof Heyns, United Nations Special Rapporteur on extrajudicial, summary or arbitrary executions, and the Director of the Institute for International and Comparative Law in Africa (ICLA) in the Faculty of Law of the University of Pretoria, who was also the keynote speaker at this event (click here to access his speech), received the award for his work investigating and exposing some of the world's most egregious human rights violations.
The AHR' connection to Prof Heyns' work as a special rapporteur began in the 1980s when The AHR developed the groundbreaking Minnesota Protocol, the first set of international guidelines for investigating suspicious unlawful deaths. Effective investigation is key to establishing responsibility and holding perpetrators accountable, but no international standards existed at the time that required governments to initiate or carry out investigations of suspected unlawful deaths.
The UN adopted the Minnesota Protocol in 1991 with the official title, UN Manual on the Effective Prevention of Extra-legal, Arbitrary and Summary Executions. The manual, widely known as the Minnesota Protocol, has been used in a myriad of investigative contexts in almost every region of the world. Last year, Prof Heyns asked The AHR to assist with the updating of the Minnesota Protocol with forensic, medical, and other advancements since the original publication. According to Prof Heyns, "[T]here is a need for clear international standards that encompass the realities of human rights abuses in the twenty-first century which has resulted in the current revision."
The Human Rights Awards Dinner, which has been a long-established tradition, honours individuals who have made significant contributions to the promotion of human rights movements and special recognition awards are presented at the event. It celebrates the work of volunteers whose efforts impact the support of human rights locally and internationally.
In the interim another honour has been bestowed on Prof Heyns, as he is also the South African nominee for election to the 2017 United Nations Human Rights Committee, which is the monitoring body of the International Covenant on Civil and Political Rights.
On behalf of the Faculty of Law and the University of Pretoria, a proud dean André Boraine conveyed his congratulations to Prof Heyns on these remarkable achievements. "This award to and nomination of Prof Heyns are further proof that the Faculty of Law of the University of Pretoria is constantly making an impact on and contributing to human rights on the Africa continent and the rest of the world."