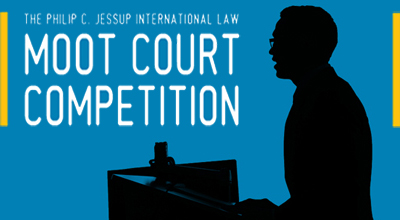 The Philip C Jessup International Law Moot Court Competition is the largest and most prestigious moot court competition in the world. With participants from more than 700 law schools worldwide, it is the most direct way in which law faculties' students measure their strength against each other. The Competition is a simulation of a fictional dispute between countries before the International Court of Justice, the judicial organ of the United Nations. Teams prepare oral and written pleadings arguing both the applicant and respondent positions of the case before a panel of experts. 
Since 1993, the University of Pretoria has competed in the Jessup. In recent years, the University of Pretoria has consistently won the South African rounds of the Jessup and progressed to the international rounds in Washington to represent South Africa. The teams are graciously supported by the University of Pretoria's law faculty and the Institute of Comparative Law in Africa, with Professor Christof Heyns acting as their faculty guardian.
This year UP's team, consisting of Dunga Mashilo, Kiranteba Coetzee and Kyle Cloete coached by Sohela Surajpal, won the South African rounds. They won the finals, which were presided over by Constitutional Court Justice Madlanga and also scooped every award, including best team, best oralist and best memorials. As an unfortunate result of COVID-19 restrictions, the White and Case international rounds were cancelled however the team's written memorials were still awarded the Alona E Evans Award for Combined Memorials, ranking in the top 50 out of more than 700 law schools. The team's performance continues a proud tradition of achievement at the Jessup, following on from the success of recent years.
In 2019, a team consisting of Ashley Makgatho, Franciscus Crouse and Matikomborera Nyamadzi and Simon Motshweni, coached by Keketso Kgomosotho, advanced to the international rounds where their written memorials were awarded an Alona E Evans award for ranking 15th in the world.
In 2018, a team coached by Keketso Kgomosotho consisting of Mary-Ann Gettliffe , Rohula Bilankulu, Thomas White and Sohela Surajpal was one of the top eight teams that made it to the quarter-finals of the Jessup international rounds and was ultimately placed fifth overall out of more than 680 teams. The TuksLaw team also won the Richard R. Baxter Award for the best Respondent memorials and the Alona E Evans Award for the 8th Best Combined Memorials at the White & Case International Rounds.
In 2017, the team coached by Keketso Gift Kgomosotho and consisting of Ashley Makgatho and Mary-Ann Gettliffe with assistant coach Tino Kakora progressed to the top 16 oral rounds in Washington.
These achievements constitute only a recent snapshot of UP's impressive track record at the Jessup, however they bare testament to the culture of dedication, ingenuity and mooting excellence at UP.