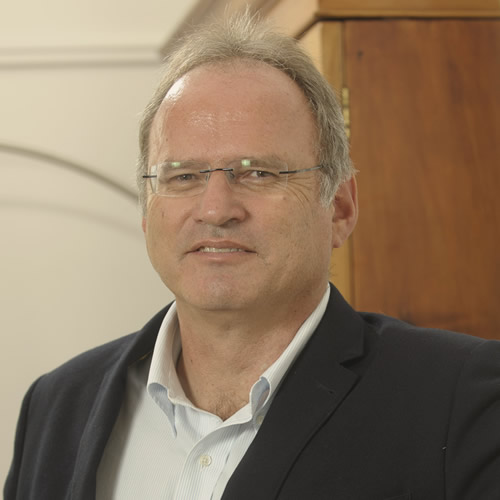 MA LLB (UP) LLM (Yale) PhD (Wits)
Christof Heyns is professor of human rights law at the University of Pretoria and a member of the United Nations Human Rights Committee. He teaches human rights law in the Masters' programme at Oxford University, is an adjunct professor at the American University in Washington DC, and was a visiting professor at the University of Geneva in 2016.
Heyns was UN Special Rapporteur on extrajudicial, summary or arbitrary executions 2010 – 2016. During 2016 he chaired the UN Independent Investigation on Burundi.
He holds degrees in law and philosophy from the Universities of Pretoria, the Witwatersrand and Yale Law School. He has been a Humboldt Fellow at the Max Planck Institute in Heidelberg and a Fulbright Fellow at Harvard Law School.
TEACHING 2018
During 2018 Heyns will teach in the human rights as well as the international law Masters programmes and the LLB interntional law course at the Univerity of Pretoria; the Transitional Justice Masters programme of the Geneva Academy of International Humanitarian Law and Human Rights; the Masters programme in international human rights law at Oxford; and the Summer Programme in human rights of the American University in Washington DC.
Publications
Some current projects
A book with colleagues on the role of commissions of inquiry into right to life violations in Africa
An article with colleagues on the 2016 Minnesota Protocol on the investigation of potentially unlawful death
An article with colleagues on the history of the UN mandate on extrajudicial, summary or arbitrary executions
An article with colleagues on the right to political participation in Africa
A reader on the right to life
Published during the last five years
Books
Compendium of key human rights documents of the African Union (editor with Magnus Killander) Pretoria University Law Press, 2016, 6 th edition (420 pp)
Chapters in books
'"Unmanned" Weapons: Looking for the Gender Dimensions' in Ni Aolain, F et al (eds) Oxford handbook on gender and conflict (OUP, 2017) (with Tess Borden)
'Africa' in Moeckli, D et al (eds) International Human Rights Law (3rd edition, OUP, 2017) (with Magnus Killander) (update of earlier chapter) 465 - 481
'The right to life and the progressive abolition of the death penalty' in De Guzman, M (ed) Arches of justice: Essays in honour of William A. Schabas (OUP, 2017) (with Tess Borden and Thomas Probert) 117 - 135
'Jan Smuts en die Verenigde Nasies' ['Jan Smuts and the United Nations'] Du Pissani (ed) Jan Smuts: 'n Herwaardering ['Jan Smuts: A reappraisal'] (Protea 2017) (with Willem Gravett) 397 - 424
'Casting fresh light on the supreme right: The African Commission's General Comment 3 on the right to life' Tladi, D et al (eds) The pursuit of a brave new world in international law: Essays in honour of John Dugard (Brill 2017) (with Thomas Probert) 45 - 72
'A human rights perspective on autonomous weapons in armed conflict: The rights to life and dignity' in Robin Geiss (ed) Lethal autonomous weapons systems: Technology, definition, ethics, law and security (Expert opinions delivered at the CCW informal meeting of experts on lethal autonomous weapons systems, Geneva 11 to 15 August 2016) (German Federal Foreign Service 2017) 148 - 159
'Autonomous weapons systems: Living a dignified life and dying a dignified death' in Bhuta, N et al (eds) Autonomous Weapons Systems: Law, Ethics, Policy, (Cambridge University Press, 2016) 3 - 19
'Coming to terms with drones' in Cortright, D et al (eds) Drones and the future of armed conflict (University of Chicago Press, 2015) vii - xi
'The right to life and the progressive abolition of the death penalty' in Simonowic, I (United Nations publication, 2015) (with Thomas Probert) 214-226
'Universality and the growth of regional human rights systems' in Shelton, D (ed) The Oxford Handbook of International Human Rights Law (Oxford University Press, 2013) (with Magnus Killander) 670 - 698
Articles
'"To save succeeding generations from the scourge of war": Jan Smuts and the ideological foundations of the United Nations' 39 Human Rights Quarterly (2017) 574 - 605
'Autonomous weapons in armed conflict: The right to a dignified life' 33 South African Human Rights Law Journal (2017) 46 - 71
'The international law framework regulating the use of armed drones' 65 International and Comparative Law Quarterly (2016) 791 – 827 (with Dapo Akande et al)
'Human rights and the use of autonomous weapons systems (AWS) during domestic law enforcement' 38 Human Rights Quarterly (2016) 350 - 378
'The long term human rights implications of targeted killings' 54 Harvard International Law Journal (2013) 101- 114 (with Sarah Knuckey)
'Protecting the right to life of journalists: the need for a higher level of engagement' 36 Human Rights Quarterly (2013) 304 – 332 (with Sharath Srinivasan)
Recent speeches
---
Doctoral students supervised
2017
---
2015
---
2010
Waruguru Kaguongo (Kenya)
'Available resources' and the the realization of economic and social rights, with special reference to national budgets (co-supervisor)
---
2009
---
2006
---
2002
---
1998
Henk Botha
The legitimacy of law and the politics of legitimacy: Beyond a constitutional culture of justification (co-supervisor)
---
1997
Frans Viljoen
The realisation of human rights in Africa through inter-governmental institutions
---
Doctoral students currently registered with Christof Heyns
Tino Chinyoka (Zimbabwe) is doing a survey of the protections of the right to life in Zimbabwe and in South Africa (ranging from regulation of gatherings to duty to investigate)

Dennis Chipao (Malawi) is doing an analysis of how the Malawi Police Service can take advantage of new technologies to monitor and improve the effectiveness and accountability of "manual" policing (co-supervised by Thomas Probert)

Alero Itohan Fenemigho (Nigeria) is doing a study of counter-terrorism policing in Africa under international law (co-supervised by Stuart Maslen)

Dumisani Gandhi (Zimbabwe) is exploring the relationship between new technologies and more effective or accountable policing, with a critique of deterministic optimism projected from a northern evidence-base (co-supervised by Thomas Probert)

Anne Ireri (Kenya) is investigating the Kenyan Police Service in terms of their capacity for forensic investigation (co-supervised by Thomas Probert)

Dickson Kahama (Uganda) is studying collective accountability for non-state actors for international crimes during non-international armed conflict (co-supervised by Stuart Maslen)

Brenda Mwale (Kenya) focusses on prevention and repression of cyber-terrorism in Africa (co-supervised by Stuart Maslen)

Ben Christopher Nyabira (Kenya) investigates the levels of violence in Kenya and the institutional arrangements for the collection of such data at national level. (co-supervised by Thomas Probert)

Dagnachew B. Wakene (Ethiopia) is working on violence against persons with disabilities

Daniel Walyemera is proposing a study of the private prosecution of police torture in Africa (co-supervised by Stuart Maslen)
---
[last updated 28 June 2018]