2014
Expert Meeting on "Transparency and the Death Penalty" hosted by the International Commission against the Death Penalty, Geneva  
"Papua New Guinea: A paradox of human rights" lecture at University of Pretoria, Pretoria  
"Autonomous weapon systems: the future?" panel hosted by University of Cambridge, Cambridge  
"Human rights implications of lethal and less lethal autonomous weapons systems" panel hosted by Amnesty International, Geneva
"Human rights, disarmament and killer robots" panel hosted by Campaign to Stop Killer Robots, Geneva  
"Police use of force and human rights protections in social protests" panel hosted by the Centre for Social and Legal Studies, Geneva 
"Autonomous Weapons Systems" lecture at Oxford University, Oxford  
Address on the Death Penalty to the OSCE Human Dimension Committee, Vienna  
"Regional perspectives of the death penalty" presentation to African Commission on Human and Peoples' Rights in cooperation with the Government of Benin, Cotonou  
"Autonomous Weapons Systems" lecture at the Stellenbosch Institute for Advances Studies, Stellenbosch  
"Ensuring use of remotely piloted aircraft or armed drones in counterterrorism and military operations in accordance with international law, including international and humanitarian law" panel hosted at the UN Human Rights Council, Geneva  
Address on Drones to the Speech Parliament of Norway 
Enhancing cooperation between United Nations and regional mechanisms for the promotion and protection of human rights panel hosted at the Office of the High Commissioner for Human Rights, Geneva  
"The curious tale of the inclusion of the words "human rights" in the UN Charter" public lecture at the University of Columbia, New York  
2013
Launch of "The War Report 2013: Armed Conflicts and their Consequences" panel discussion hosted by The Geneva Academy, Geneva  
"Lethal autonomous robots" paper hosted at  Rhodes House and Kellogg College, Oxford and  the Disarmament Institute, Geneva, Switzerland  
"Targeted killing by drones" paper presented at the European University Institute and Global Governance and Global Governance Programme, European University Institute in Florence, Italy  
Keynote address: "The ethical, strategic and legal implications of drone warfare" at Kroc Institute at the University of Notre Dame in Indiana, United States of America  
"Lethal Autonomous Robotics" presentation at Pugwash, University of Birmingham, United Kingdom 
"International human rights law and the use of armed drones" presentation at the Geneva Academy of International Law, Wilton Park, United Kingdom 
2012
"The right to life during demonstrations" lecture at the South African Institute for Advanced Constitutional, Public, Human Rights and International Law at the Constitutional Court of South Africa, Johannesburg, South Africa 
"The human rights implications of targeted killings" panel hosted at the American Civil Liberties Union, the Centre for Constitutional Rights, the International Commission of Jurists and the International Federation of Human Rights, Geneva  
"Extrajudicial executions in Colombia" presentation at the Colombian Commission of Jurists and the International Federation of Human Rights, Geneva  
"The mandate of the Special Rapporteur on extrajudicial, summary or arbitrary executions, with specific reference to Syria, India and Sri Lanka" public lecture at  the American Society of International Law, Washington DC 
"The safety of journalists and the issue of impunity in Africa" presentation at the Pan African Union of Journalists,  AU Headquarters, Addis Ababa  
"The death penalty" panel hosted by the UN Department of Public Information, New York 
"Protecting the safety of journalists" panel hosted by the Centre for Governance and Human Rights, Cambridge, UK 
"The use of lethal force during demonstrations in the wake of the Arab Spring" panel at Wilton Park, UK  
"Extrajudicial executions and targeted killings" panel hosted Harvard International Law Journal, Harvard Law School, USA  
2011
"Protecting the lives of journalists", international expert meeting hosted by the Government of Austria, Vienna 
1. Thematic Report: "Protecting the right to life in the context of policing assemblies" (A/HRC/17/28) 2011
Further developments
Video: UN Human Rights expert Christof Heyns on the use of lethal force during demonstrations
2. General Assembly Report: The protection of life in the context of arrest (A/66/330) 2011
Further developments

3. Thematic Report: "Protection of the right to life of journalists" (A/HRC/20/22) 2012
The panel consisted of:
Christof Heyns, United Nations Special Rapporteur on extrajudicial, summary or arbitrary executions
Celia Davies, Cambridge graduate and Project Development Manager at Institute for Reporters' Freedom and Safety in Azerbaijan
Pansy Tlakula, Special Rapporteur on Freedom of Expression and Access to Information of the African Commission on Human and Peoples' Rights
Frank La Rue, United Nations Special Rapporteur on the promotion and protection of the right to freedom of opinion and expression
Joel Simon, Executive Director, Committee for the Protection of Journalists
Moderator: William Horsely, former BBC correspondent and UK Chairman, Association of European Journalists
Chair: Sharath Srinivasan, Director, Centre of Governance and Human Rights"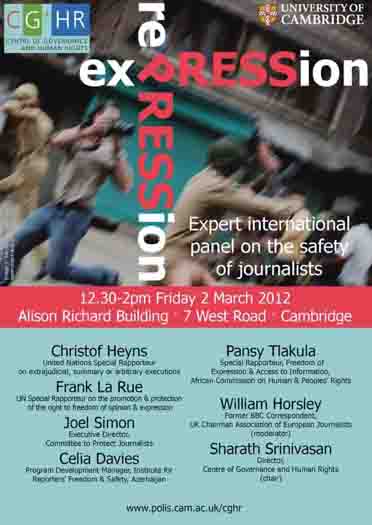 Further developments
Video: Protect journalists

Pan-African Conference on Safety of Journalists and Issue of Impunity kicks off with a call for safe and free environment for African journalists
Place: Addis Ababa
Other speakers/Supporters:
FAJ President Omar Faruk Osman
The chairperson of African Union Commission Dr Jean Ping
IFJ President Jim Boumelha
ITUC-Africa General Secretary Kwasi Adu-Amankwah
4. General Assembly Report: Restrictions on the death penalty (A/67/275) 2012
Harvard: Death Penalty, Hanging by a Thread?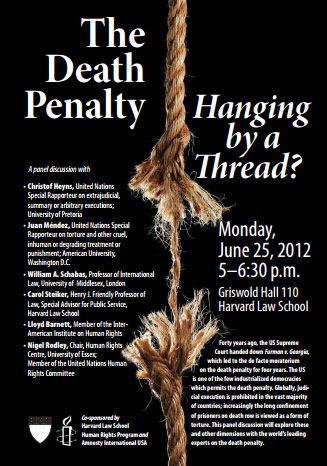 The expert meeting for this report was held at Harvard Law School on June 25 2012 as a joint venture amongst others with Juan Mendéz, Special Rapporteur on torture and other cruel, inhuman or degrading treatment or punishment, and William Schabas from University of London. Heyns and Mendez presented their reports in parallel to the General Assembly.
Participants
Carol Steiker
Lloyd Barnett
William Schabas
Juan Mendez
Livingstone Sewanyana
Nigel Rodley
Further developments
5. Thematic Report: "Lethal autonomous robotics and the protection of life" (A/HRC/23/47) 2014
The expert meeting for this report was held at the European University Institute, Florance, Italy, on the consequences for the right to life of the emergence of Lethal Autonomous Robotics (LARs). The experts includes people who work in the areas of law, robotics, computer science, artificial intelligence, psychology, and national security, and they represent academia, the military, governments, intergovernmental organisations and civil society.
Participants
Further developments
 6. General Assembly Report: Armed drones and the right to life (A/HRC/23/47) 2013
Dapo Akande, co-director of the Oxford Martin Programme on Human Rights for Future Generations, chaired the meeting with UN special rapporteurs Christof Heyns and Ben Emmerson QC. The workshop was attended by more than 20 academics, members of civil society and the International Committee of the Red Cross.
Titled 'Targeted Killings, Drones and the Right to Life', it looked at the interaction between the right to life as enshrined in international human rights law, laws on targeted strikes during armed conflict, and the right of states to act in self-defence against non-state parties under international laws on the use of force.

Participants
Further developments
7. Thematic Report: The use of force by law enforcement officials (A/HRC/26/36 ) 2014
Participants
Further developments
8.Thematic Report: "Use of information and communications technologies to secure the right to life" (A/HRC/29/37) 2015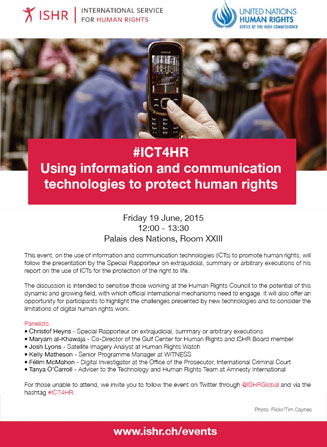 Future reports
"The Special Rapporteur is looking into the role of science and technology in the protection of life, extractive industries and the right to life, and civil society and the protection of the right to life.