Martha Bradley: Non-Resident SARChI Associate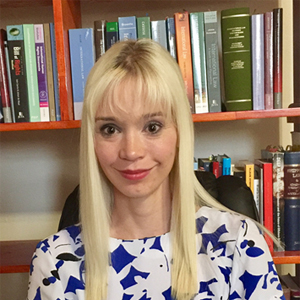 Martha Magdalena Bradley is an LLD candidate and non-resident SARChI associate at the Institute for International and Comparative Law in Africa, University of Pretoria. Her doctoral title is 'The collective responsibility of organised armed groups for the violation of the law of non-international armed conflict'. She is supervised by Prof. Dr. Erika de Wet (University of Pretoria) and Prof. Jann Kleffner (Swedish National Defence University). Martha Bradley received financial support from a Von Humboldt Institutional Partnership from June until August 2015 and November and December 2015. This funding enabled her to conduct doctoral research at the Max Planck Institute for Comparative Public Law and International Law in Heidelberg, Germany.
Martha Bradley graduated with an LLB and LLM (Air, Space and Telecommunications Law) (Cum Laude) from the University of Pretoria and an LLM (Shipping Law) from the University of Cape Town. Martha was awarded full academic colours from the University of Pretoria in 2014 for Academic Excellence. Martha was also the 2014 Jessup coach of the South African National Champions, representing South Africa in Washington DC. She worked as an Academic Associate for Public International Law at the Department of Public Law from February 2013 until November 2015. Martha also worked as a researcher affiliated with the SARChl Professorship in International Constitutional Law at the Institute for International and Comparative Law in Africa during 2016. Martha lectures International Environmental Law in the short course on Environmental Law offered by CE@UP in collaboration with the Department of Public law, University of Pretoria on a regular basis. Martha also regularly marks for the University of South Africa. Martha is a recipient of the 2017 NRF Extension Scholarship for Doctoral Candidates.
Martha's current research interests are: General public international law, the law of international responsibility and international humanitarian law.